18 Brilliant and Creative DIY Herb Gardens for Indoors and Outdoors
Regardless of whether you have a small garden, a huge garden or no garden at all, there should be no excuse for not growing your herbs.
They're very easy to maintain and there truly is nothing better than picking your very own fresh herbs right in your home. You can build a big garden feature or a subtler indoor hanging garden or wall; either way, an herb garden won't only provide you with fresh produce and delicious food, but it'll also brighten up your home.
And don't even get me started on the wonderful smells that will be emanating from your little plants!
Mason Jar Garden
The Mason jar craze is still in full force, and I don't think it'll be dying down anytime soon. So when it comes to using them for DIY projects, making a wall herb garden just seems like the next logical step!
Without holes for drainage you have to be careful not to overwater your plants; you could also put some stones in the bottom of the jar so that the water sits there and not in the soil.
DIY Instructions and Project Credit – CamilleStyles
Herb Spiral
This spiral ideas is absolutely stunning and will make for a wonderful feature in your garden; depending on how much space you have, you can make it as big or small as you like. With a raised garden bed design, your herbs will be safe from weeds and better protected from cold temperatures.
DIY Instructions and Project Credit – TheMicroGardener
Platic Bottle Vertical Herb Garden
DIY Instructions and Project Credit – Rosenbaum
Faux Ladder Planter
I just love the ladder design of this planter – it just really suits the outdoors. You don't have to be a professional carpenter to pull off this relatively easy build, and the best part is that the whole thing won't cost you more than $50.
DIY Instructions and Project Credit – AnaWhite
Gutter planter
DIY Instructions and Project Credit – Diyncrafts
Simple Hanging Garden
This indoor hanging garden is the epitome of elegance; the minimalist design is what makes it so appealing. It won't take all that long to make this and you actually don't need that many supplies either. Just make sure to pick a spot in your home that gets enough sunlight.
DIY Instructions and Project Credit – SusieFrazier
Tea Cup Planter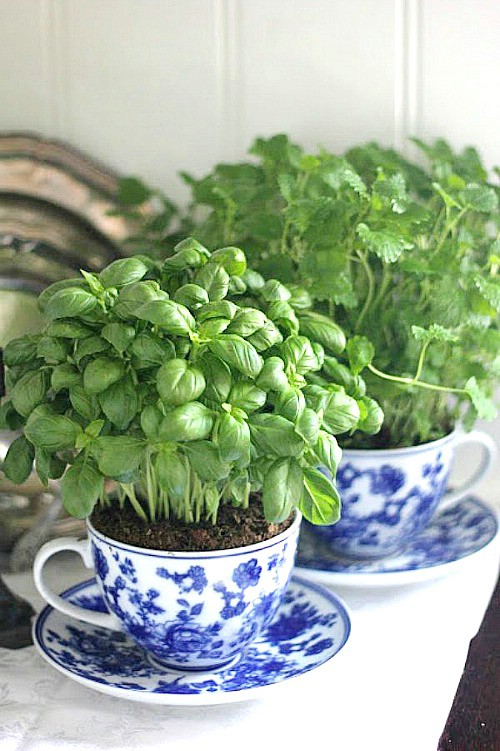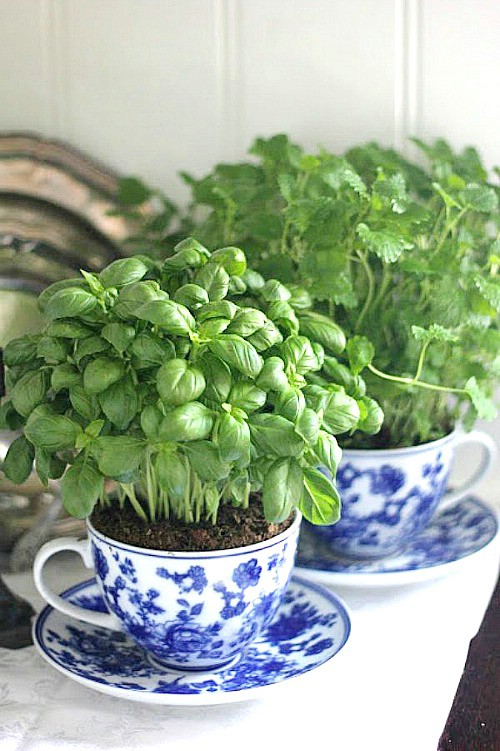 DIY Instructions and Project Credit – Acultivatednest
Bottle-Top Vertical Garden
Not only is this project adorable and functional, but it's a great way to reuse those old plastic two-liter bottles. The opening at the bottom provides the necessary drainage, and the shape makes your herbs look like mini trees.
DIY Instructions and Project Credit – Home-Dzine
Pallet Planter
Yes, the pallet projects truly seem never ending, which is fantastic when considering that these things are pretty easy to get for free. This project is actually ridiculously easy, and you get to paint and decorate your planter however you want.
I think some chalkboard paint could work well here too – that way you can name each herb.
DIY Instructions and Project Credit – DIYnCrafts
Vertical Garden Wall
A lack of physical space shouldn't deter you from having your very own herb garden, so going vertical is the perfect option. This stand-alone wire netting wall is pure brilliance and despite its genius function, it is absolutely beautiful! It looks like some modern art creation.
DIY Instructions and Project Credit – AkaDesign
Indoor Garden Wall
This is one of those super easy projects that come out looking absolutely incredible. With just some little tin buckets, picture hangers and your plants, of course, you'll have this beautiful display up in no time, bringing both visual beauty and a lovely, fresh aroma to your home.
DIY Instructions and Project Credit – TenJune
Crooked Pot Garden
I adore this crooked pot idea – it's just so charming and cute! A metal rod through the middle keeps your wonky pots in place so that they just look like they're about to fall over but won't actually fall over.
If you're buying everything new, including the herbs, this pretty little project will only set you back about $25.
DIY Instructions and Project Credit – OurCozyCubbyhole
Hanging Bottles
These mercury glass bottles are absolutely beautiful, but don't fret if you can't find any – you can simply customize plastic bottles by cutting holes into them. I'd recommend a nice paint job if you're using regular plastic bottles.
DIY Instructions and Project Credit – 11Eureka
Wine Bottle Holder
I just love coming face to face with the ingenious creativity that some people possess. This DIYer decided to turn her vertical IKEA wine bottle holder horizontally, pop in some herbs in glasses and turn it into a stunningly modern indoor herb garden.
DIY Instructions and Project Credit – Curlby
Shoe organizer planter
DIY Instructions and Project Credit – Instructables and Greenupgrader
Repurposed planter
DIY Instructions and Project Credit – Apartmenttherapy.com
The Herb Grower's Cheat Sheet
Infographic source – Anglianhome
Vintage Tea Pots
If you're lucky enough to already have a few of these gorgeous vintage silver tea or coffee pots then you're already halfway there. Otherwise just head out to thrift stores or flea markets to pick some up for a good price.
This is such an unorthodox way to repurpose such beautiful pieces, so it'll make a real statement in your kitchen.
DIY Instructions and Project Credit – AnyoneCanDecorate